with Rebecca Gold and Amy Jones
Do you have a story in mind that you're ready to get on paper but you can't seem to find the time to sit down and write it?
Do you get easily distracted when you are writing on your own? 
Do you crave feedback and community from other writers?
Are you curious about Yogic Writing? 
Well then have I got a day planned for you! 
What exactly is a Yogic Writing Retreat?
Yogic Writing is a process that combines yoga, meditation, and juicy writing prompts to help you find and write your life stories. This full day retreat will be a journey from your mind through your body to the page. Join us in person or online via Zoom.
All you need is a blank notebook and an open mind. You can also bring whatever writing project you've been circling around for some time and need to dig in and complete. This is your time to explore and WRITE… here and now!
No yoga, meditation, or writing experience necessary! 
"Writing is the only thing that when I do it,
I don't feel I should be doing something else."
~ Gloria Steinem
What do I get out of Write Here Write Now?
You'll be introduced to a new practice called Yogic Writing! I will lead you through 3 different practices including gentle movement, meditation and pranayama (breath practice) that can help you move your writing from your mind through your body to the page. All practices are optional.
You'll get some structured writing time, divided up into manageable chunks.
You'll get the emotional support that you need throughout the day so you don't feel isolated and lonely.
You'll have a community of people writing with you- in person and virtual.
You'll get the opportunity to share your work for feedback and support.
Most importantly, you'll get some writing done and feel good about yourself!
How does an online retreat actually work?
To be honest, I never thought I could recreate my Yogic Writing retreat to be an online offering. But then, when covid forced us all to look at experiences through a different lens, I thought I would give it a try. 
And guess what… it wasn't nearly as weird as I thought it would be!  I attended a few online writing retreats myself, and then began to pivot all my in-person writing programs and retreats into virtual experiences, and they have been working really well!  And the beauty is I've been able to include people from all over the country into my virtual living room! 
Here's what I realized: you can recreate much of the retreat experience with some technological wizardry and an open mind.  All you really need is some structure, time, and community support. 
I've created Write Here Write Now online retreat to give you all three in a virtual format.
I want to write! Sign me up!
Welcome & Introduction, How it Works, Intention setting for the day.
First Yogic Writing practice (gentle yoga with Amy Jones) with writing prompts
Share your work for feedback (optional)
Lunch break– lunch will be provided for an additional cost, or bring your own. 
Second Yogic Writing practice (meditation and breathwork) & writing prompts
Share your work for feedback (optional) 
Third Yogic Writing practice (move, meditate and breathe) & writing prompts
Share your work for feedback (optional)
Closing & Celebrations!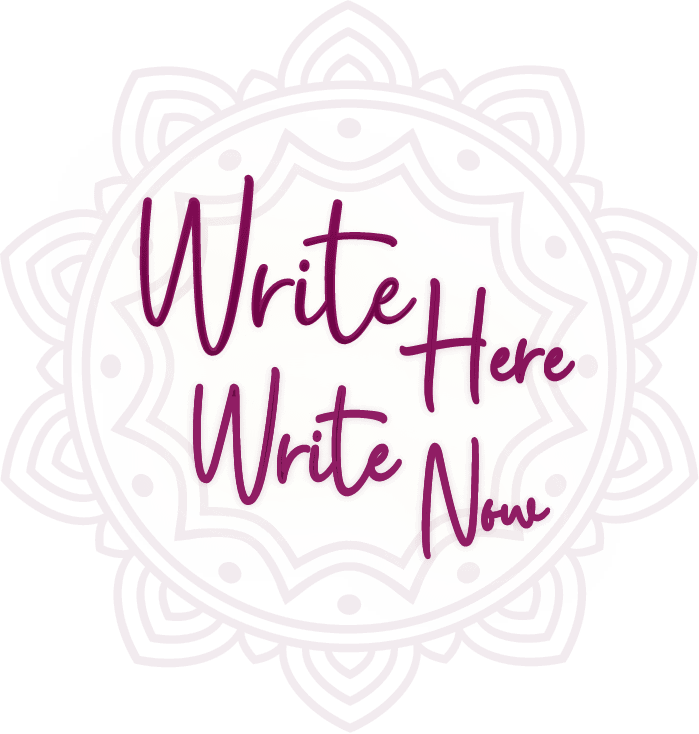 Yes, I need this! Save my spot today.
A little yoga.
A little meditation
A little breath work.
…and a whole lotta writing!
Can't join us this time but you want to keep in touch? 
Sign up for my newsletters. You can always unsubscribe and I won't share your address with anybody.